– In partnership with We Are Weymouth BID and Weymouth College – proceeds of ticket sales going to Weldmar Hospice –
As part of We Are Weymouth BID's Christmas extravaganza, the Ministry of Steampunk is coming to Weymouth. A Christmas weekend of fantasy and costume, kicked off with an evening of Steampunk fashion on Friday 2nd December at 7.30pm. Students at Weymouth College studying Level 3 Creative Practice (Extended Diploma) have been creating work inspired by Steampunk for their live project. Their creations will be on display at The Royal Hotel for an evening of Steampunk with static displays, talks and a catwalk show.
The evening will offer the opportunity to get up close and see the handiwork (and hard work) of the Weymouth College creatives at all stages of development from amateur makers to professional designers.  Designs include concept garments and accessories, sculptures and photographic images; students and makers have embraced the challenge, showcasing resourcefulness, imagination and more than a little ingenuity in the choice and application of the materials they have used.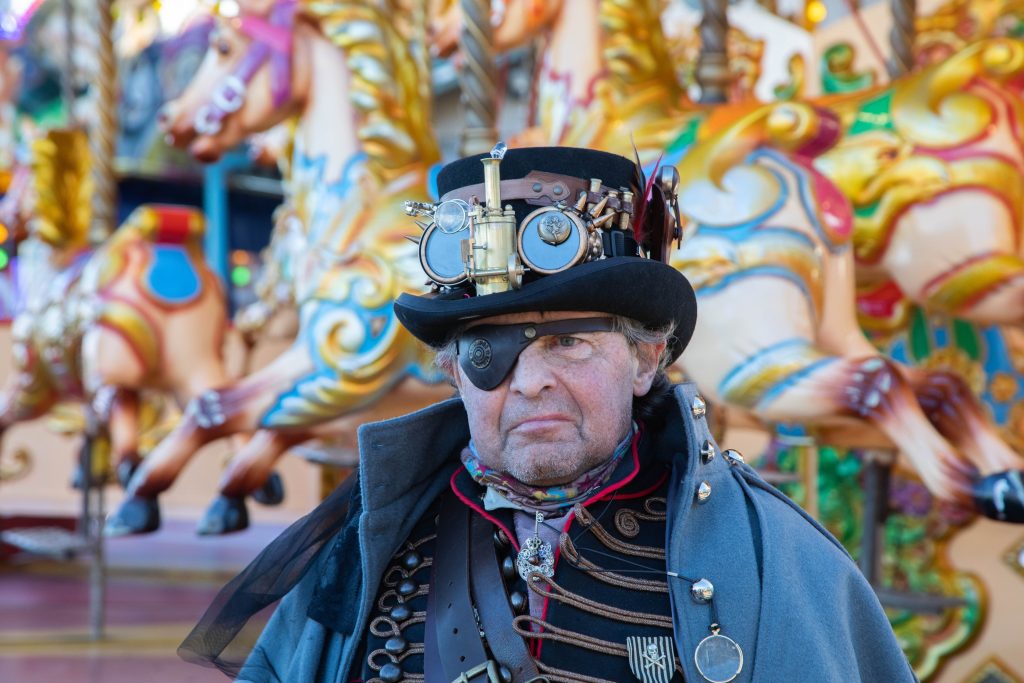 Lady Elsie is the current custodian of a collection of original Historical Garment dating back to the early 1800's. The collection includes Georgian, Victorian and Edwardian examples of mostly women's clothes and accessories. She will be bringing some of these garments to display and discuss how they have influenced the Steampunk Fashions that will be seen in Weymouth over the weekend. There will be some replicas also on display which she has used in some of the many Historical TV shows she has been involved with over the last 20 years.
Belly Fusion Dance Collective are an improvisational tribal and theatrical fusion belly dance troupe whose costumes are as amazing as their dance routines – they too will be joining the charity fashion gala.
Nimrod Lancaster (amateur costume and gadget bodger) will demonstrate how he used his wife's pilates ball to start making "The Wrong Trousers" and how you can turn a bicycle wheel and a pile of EVA foam garage floor tiles into a Steampunk rotating skirt.
Dawn Rondeau, Chief Operations Officer at We Are Weymouth BID comments: "Our Steampunk Christmas weekend is a truly original addition to Weymouth's Christmas events calendar. We love the fantastical and magical elements of Steampunk and feel it brings something unique to the town. We're very proud to be working with the students of Weymouth College and the Ministry of Steampunk to bring an evening of Steampunk fashion to the town, we're especially proud to be raising money for Weldmar, a hugely important local charity. As well as this spectacular evening we have the bazaar at the Nothe, a Yuletide Ball with local pirates The Dolmen and a Steampunk Promenade to round off the weekend. We look forward to welcoming Steampunkers from near and far."
Weekend itinerary includes:
Friday 2nd December @ 7.30pm, The Royal Hotel – Steampunk Fashion Gala in aid of Weldmar hospice
Saturday 3rd December @ 10am to 4pm, The Nothe Fort – Steampunk Market and Yuletide Songs
@ 8pm to late, The Centenary Club – The Clan Dolmen Yuletide Ball
Sunday 4th December @ 11am, Jubilee Clock – Steampunk Promenade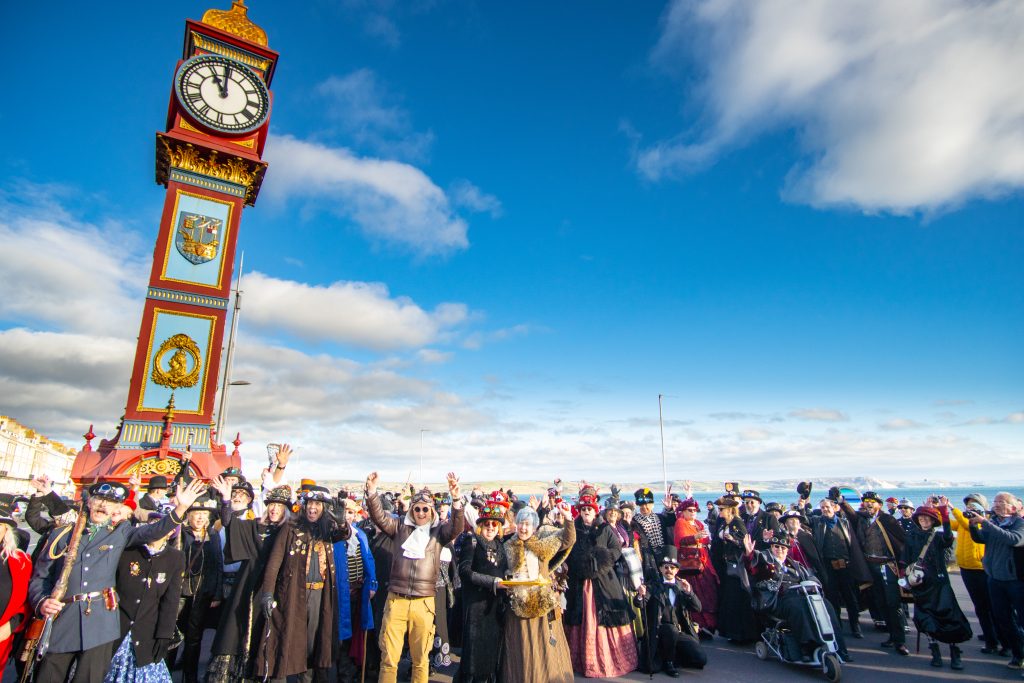 Tickets for the Fashion Gala are £8.00 and include a teacup of mulled wine on arrival: https://www.eventbrite.com/e/from-college-to-catwalk-a-steampunk-charity-fashion-gala-tickets-460056881517